Well, here I am again with part two of my list of scents every frag-obsessed guy should try. For those who haven't read part one, I don't claim to be any kind of an expert, and I'm presenting these as a potential source for conversation...

For todays entry, there are only two frags compared to yesterday's five, but they have longer explanations:
Male vs. Female The Icons
6. Old Spice
Dating back to 1937, Old Spice is unquestionably an American icon. Just about every man here has either worn it or had a father or a grandfather who wore it. We all know the bottle, but have you given it a real wearing since starting to collect frags? Probably not, as it seems to be one of those drugstore cheapies that we give up once we discover Guerlain and niche and all that. Its a shame, because Old Spice is actually really interesting.
So what does it smell like? Its powdery and old-fashioned, and blasts that powdery smell over a surprisingly feminine white flower accord. Theres a burst of camphorous lemon on top as well. Being a splash cologne, theres not much of a base beyond the powdery soapy smell, but it makes up for that with a truly unusual mix of spices that create a brilliantly weird meaty background smell thats kind of like beef jerky under all those powdery flowers, and the only remotely masculine thing going on in Old Spice.
The most surprising thing is that the most iconic masculine cologne out there is actually very feminine, yet generations of war heroes and father figures have proudly worn it, so please keep that in mind if you every find yourself wondering if something smells too feminine on you. If your bad-ass grandfather could come home from World War II smelling like powdery flowers, you should at least have the balls to wear something with roses in it without worrying if people will think you smell gay.
7. No. 5 by Chanel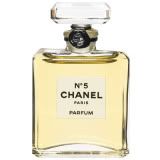 And with that, I hereby throw down the gauntlet and challenge you to grow a pair and wear Chanel No. 5 for a day. Its easy just sneak a little sample the next time you visit your mother, or just spray some on yourself the next time you walk through a Macys. Just do it.
The first thing youll notice will immediately prove my point it smells an awful lot like Old Spice (Technically speaking, Old Spice was created as a cheap copy of Chanel No. 5).
No. 5 is built on the same mix of powdery flowers as Old Spice, though No. 5 does it one better by adding a really awesome sparkling lemon champagne accord to the topnotes (that sparkle comes from the aldehydes people talk about in reference to No. 5). It also has a proper base, a legendary super-creamy mix of sandalwood and musks.
While youre wearing it, bear in mind that No. 5 is the textbook aldehydic floral, and worth getting to know as such. That mix of sparkly topnotes mixing with powdery flowers over some sort of creamy soapy base is an entire genre, with a huge number of perfumes (especially classics, and a surprising number of mens scents) following this formula.
If you want to investigate further, (or if youre at a mall perfume counter looking at the bottles and wondering) the version to sample if you can is definitely the pure perfume, which really plays up the rich, creamy basenotes.
Once youve tried my Old Spice versus No. 5 challenge, hopefully any of you out there who are still worried about wearing a womens perfume will be won over. If nothing else, if anyone asks what youre wearing while youre in Chanel No. 5, you could just say Old Spice and be really close
Comments?
Would any men who have successfully worn No. 5 without their penis falling off like to reassure people that its ok?