Hey everyone! Yesterdays post was pretty non-specific, but I promise to list specific fragrances from now on. Honestly, I had a sort of a plan how to start this project, but from here on out, things are going to get a little random. For anyone who skipped the first few, please keep in mind that Im no expert and I hope no one reading this thinks that I actually consider myself any kind of perfume professor - I just smell lots of things
With that, I give you todays topic:
Leather Scents
Really, Kolnisch Junchten would have made a bit more sense in todays entry, with its angry birch tar leather smell, but its age and history demanded that it end up in the early history write-up. But please do keep it in mind with these scents today, as its overdose of birch tar has remained one of the definitive expressions of leather in perfume.
But there are other ways to express leather, largely because there really isnt a true leather note available - its not like you can just squeeze a leather jacket until fragrant oils come out. So the smell of leather in perfumery is by definition abstract and open to many different interpretations.
18. Knize Ten by Knize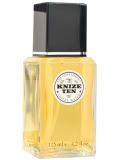 Knize Ten is a prime example of an early type of leather scent which gets its suede-ish texture from a chemical called methyl ionone instead of birch tar. Over this doughy, almost iris-implying suede note is a whole field of flowers reminiscent of Joy and a sweet perfumey fruit note that falls somewhere between Mitsoukos famed peach and the faux pineapple made famous at the time by Houbigants excellent Quelque Fleurs.
Im including cult favorite and Basenotes darling Knize Ten in this list as a substitute for Creeds very similar Royal English Leather, which is also an incredibly worthy sniff, as is Serge Lutens much more recent Cuir Mauresque, both of which follow the same basic recipe as Knize Ten. The Creed is less floral and more focused on the methyl ionone, while the Lutens is more powdery.
If youre actually following my crazy ramblings and sniffing some of my recommendations, youve probably noticed that the methyl ionone suede note in Knize Ten is the same doughy note in Mitsouko, LHeure Bleue, and Tabac Blond (apparently it was quite popular, a bit of a defining note of the time, though I never really see it discussed here as such). Weirdly, in Ten and Royal English Leather, its called a leather note, while no one ever refers to Mitsouko, LHeure Bleue, or Tabac Blond as leather scents, to the point where their close relationships with the classic masculine leathers can come as a bit of a revelation. So why is this? Your guess is as good as mine, but I assume its simply marketing. If youre trying to sell a perfume that smells like the daughter of Mitsouko, Quelque Fleurs, and Joy to men, youre certainly not going to call it a flowery peach garden, youll call it leather, even if it really is a flowering peach garden. People largely smell what theyre told to smell, and frankly, if anyone actually tries these scents Im suggesting, Im hoping to break you of that
19. Cuir de Russie by Chanel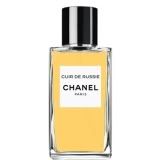 Yeah, I know. Another Chanel
Apparently, the Cuir de Russie trend goes back to the 1800s when Russian boots and leather goods became popular in France, largely due to their intriguing smell, having been treated with birch tar to make them waterproof, which ties in with the Kolnisch Junchten we tried earlier. Thanks to this fascination, many small perfumers (and Creed, if you believe their dates) made Cuir de Russie perfumes in the 1800s, but it was Chanels 1924 Cuir de Russie that really defined a specific leather genre of its own.
Their genius was to pair the leather with a high-pitched blast of violets in the opening. This created an interplay of bright, almost candied flowers and deep leather, a sort of push/pull of masculine and feminine and sweet and dark that continues to inspire perfumers to this day. Everyone from Armani (Cuir Amethyst) to Frederic Malle (Dans Te Bras is essentially a Cuir de Russie in disguise with mushroom vegetal musks standing in for the birch tar) have created their own takes on this benchmark combination.
20. Tuscan Leather by Tom Ford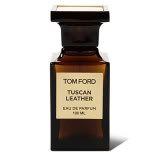 Finally, something current! Dont worry, there are lots more modern scents coming up, but I had to include Tuscan Leather here as a textbook example of a modern leather, built largely on a quinoline note (I told you to check out chemical ingredients!) instead of the methyl ionone.
Actual leather doesnt smell like cow skin as much as it smells like the chemicals used to tan and color the skins. And to use openly chemical smells like quinoline to express leather has very much become the modern standard.
But being a quinoline bomb isnt enough to put a fragrance on this list Tuscan Leather actually smells great, too. Once you smell through the lather tannery chemicals, you notice a defining sweetness, a sort of cherry candy smell playing deftly against the leather.
If you enjoy Tuscan Leather, please check out Clive Christians C for Men, which is quite similar, but with a woody smoky drydown, and By Kilians Pure Oud, which combines the Tuscan Leather smell with synthetic oud and smoky forest smells to fantastic effect.
Any comments? What would you guys have picked??