Here are a couple more selections for today. As always, please comment with any arguments or suggestions!


The Chypres Last Gasp
Much has been said in critical circles about the death of the chypre in popular mass-market perfumery. Many blame the 1990 IFRA restrictions on the quantity of oakmoss allowable in a perfume (oakmoss being the base of the chypre structure), but I personally believe that the chypre was dying long before any oakmoss restrictions came along, thanks largely to changing fashions.
Huge hit 80s fragrances like Poison and Joop! Were sticky sweet and candied and quite simple and linear when compared to the complexities of a chypre. Green Irish Tweed and its middle-class little brother Cool Water had ushered in the aquatic age. The world was changing.
So what did this mean for the masculine woody chypre? As it faded from fashion in the mid-to-late 80s, some really lame crap was released by houses that just couldnt figure out how to get modern scents right, but far more interesting to me and to fragrance aficionados are the houses that decided to go for broke, resist the new fashion, and create great chypres while they still could, a sort of a last great stand, using every trick theyd learned and decades of history to create woody chypre perfection.
35. Derby by Guerlain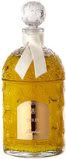 In 1985, the venerable house of Guerlain brought us Derby. In many ways, Derby is unremarkable. I follows the same herbs-and-hawthorn-on-a-chypre structure as hundreds of woody chypres, but what sets it apart is that it got everything right and resisted the urge to add anything modern or unpleasant to the mix. Its patchouli is perfectly tempered, never getting oily or unpleasant, while its hawthorn is ethereal and balanced, never allowed to be just another mass-market masculinizing element.
Unlike other woody chypres listed here, Derby has everything in its place and gets it all perfect. Its kind of hard to see what the big deal is about it, but for a perfect demonstration, try Derby next to the Aramis we tried earlier. Aramis is nice, but rough around the edges and occasionally unpleasant, while Derby is polished and perfect and never ever unpleasant. Thats whats so great about Derby.
36. Bois du Portugal by Creed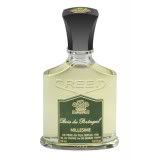 Its hard to believe that Bois du Portugal actually came out two years after Green Irish Tweed. GIT was such a game-changer that it seems like a huge step backwards, but Creed has always kept a back catalog of classic-style naturally-based scents (of which Bois du Portugal is arguably the crowning achievement) in addition to their modern synthetic Milessimes.
Creed has long maintained that they make their older scents differently than other manufacturers, using natural ingredients processed in a special way. While other manufacturers use natural ingredients take essential oils and tinctures and combine them to make perfumes, Creed theoretically mixes its solid ingredients together before theyre oils (imagine big vats of flowers and wood pre-mixed) and then makes an oil out of the mixture, which is then used to make their perfumes (kind of like how cheap wine is made with mixes of pre-pressed wines made from different kinds of grapes while fine wine mixes the different kinds of grapes together before pressing).
This results in classic compositions that simply behave different than other perfumes. On the downside, they dont last as long, but as a payback, they can achieve a depth and a smoothness thats almost unmatchable.
(To reiterate, this only applies to old classic woody or flowery Creeds, not their modern aquatics or fruity florals, which are very much artificial chemical compositions.)
So what does Bois du Portugal smell like? Its definitely a masculine woody chypre, based on bergamot, hawthorn, and a chypre base just like so many other masculine classics, but it has a creamy richness to it thats unmatched. The familiar elements (perfectly blended with the same eye for quality as Derby, of course, but with a flashy brightness thats unique to BDP) rest on a pillow of luxury that smells like a rich cloud of something between expensive but slightly funky old French soap and slightly meaty sandalwood.