So whats the big deal about Diptyque? The most honest answer to that question would be their amazing candles, of course, but their collection of perfumes has some truly outstanding scents, as well as quite a few difficult pieces designed to appeal to connoisseurs, as opposed to the general public. As such, theyre a great example of a true niche company, more concerned with artistry and distinctive flavor than with living down to common expectations.
Diptyque
58. Tam Dao by Diptyque
Tam Dao is a great example of simplicity in a perfume. Simplicity is very difficult to pull off Without extreme care, it can smell uninformed or amateurish, while simultaneously, it takes a seasoned hand to know when to stop adding ingredients and to let a simple but effective composition be. Tam Dao hits the nail on the head with rich sandalwood deftly seasoned with brighter woods and a creamy base, never overindulgent but never dull.
As such, Tam Dao is a reference sandalwood scent, but dont ignore the subtle brightness of the evergreens on top or the way the ambrox in the base plays up the creaminess inherent to the sandalwood. Tam Dao also manages to step past simply being a woody scent somehow, it carries a human element, a skin smell thats simultaneously sexy and indulgent while carrying the distinct innocent-yet-dirty smell of a newborn baby. In fact, this intriguing and decidedly humanist base is what earns Tam Dao a spot on this list over many other fantastic sandalwood perfumes. Of course, Tam Dao is also quite a cult favorite among perfume fans, and worth smelling for that reason as well.
59. Philosykos by Diptyque
Philosykos is on this list for many reasons. Its a cult classic in its own right, as well as one of Diptyques finest. Its also a perfect example of the best work of nose Olivia Giacobetti, as well as the perfume that defined what we think of as a fig scent.
Capturing the smell of a fig is tricky, largely because figs dont really have a smell until theyre cooked into jam or into the filling for a fig newton. We have a sort of an idea of what a fig should smell like, mostly based on the smell of sappy fig leaves and the flavor of a fresh fig, and this is what Giacobetti manages to artfully simulate in Philosykos.
Smelled closely, Philosykos is actually mostly tarragon mixed with coconut, but with a green leafy quality to it as well as a milky creaminess. Its an appealing blend that manages to call to mind a fig tree, though I would personally argue that the subtle base of Philosykos, an almost impossibly milky not-too-sweet vanilla cream spiced with tarragon, is its best feature.
60. Vinaigre de Toilette by Diptyque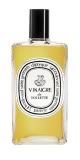 In terms of historical pre-perfume brews, weve already covered that Latin America had bay rum, while Germany had traditional citrus colognes. Add to that list the legendary perfumed vinegars of France. I didnt include Diptyques Vinaigre de Toilette in my earlier post on perfume prehistory because its actually a modern recreation, but its worth a sniff as both a fun diversion and a bit of a learning tool.
In short, Vinaigre de Toilette is basically vinegar with herbs seeped in it. Its meant for use as a skin lotion, linen and towel refresher, room spray, and hair tonic as well as a perfume, and Im sure perfumed vinegars were drunk as health tonics in the old times, too.
So what does it smell like? Well, the vinegar is unmistakable, though it quickly fades to an acidic leather note more than a food smell given a few minutes. Because of the herbs seeped in it, it has a tea quality (the same way that bay rum can be a bit tea-ish), but the vinegar itself keeps the whole scent quite dark and mysteriously animalic, though always maintaining an acidic brightness.
Any thoughts or comments?