Sorry for yet another huge delay, but Im still here For those just joining us, Ive been working on this project, inspired by NowSmellThiss list of 100 Fragrances Every Perfumista Should Try, for a while now. Again, Im just an amateur with no qualifications, but I thought it would be fun to do something more focused on a masculine point of view. With that, todays continuation:
The Basenotes Darlings Niche
Todays entry is going to be awfully short, because most of these have already been covered. Cult classics like LAir du Desert Marocain and Chergui could easily fit into this category, but these are the niche releases that didnt seem to fit in elsewhere, scents whose popularity seems the strongest here on Basenotes.
90. Rose 31 by Le Labo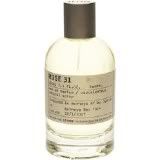 I personally think that the smartest thing Le Labo has ever done was to write for men on Rose 31. As such, its often one of the first rose scents comfortably worn by guys first making the move out of the mall scents and into niche (I say this from experience it was my first, too).
So what does it smell like? Well, theres not much rose there. Its got a lot of cumin, which fuses with an antique leather smell to give off a sort of old-man body odor thats not anywhere near as gross as it sounds. Its got pepper, too, and a mix of rose with leafy greens and that semi-aquatic faux lily smell, as well as a tiny pinch of oud. The end result is basically a dirty, green rose thats somehow simultaneously sort of aquatic, and a perfect example of creative marketing working with a good perfume to create something groundbreaking.
91. Jubilation XXV by Amouage
Jubilation XXV (not to be confused with Jubilation 25, a powdery aldehydic chypre) is another of Bertrand Duchoufours incense/cedar scents, built on the same basic recipe as Avignon and LArtisans Aedes De Venustas. However, while those two are creamy and rich, XXV is much more dry, but rounded out with a Lutens-inspired spice bazaar smell of dried fruits and spices. Its got an undertone of dusty antiques, a sort of old dried teak smell that keeps it from ever smelling edible, despite the fruit. All told, Jubilation XXV is probably the ultimate expression of fruits mixed with woods, sweet but not edible, and never trashy (most fruit/wood combinations out there devolve into smellalike woody amber bases, but not Jubiation), with its more challenging woody elements perfectly tempered.