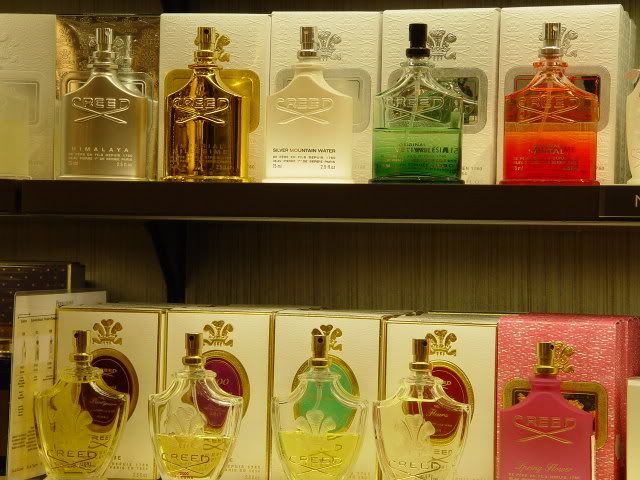 Zurich
Shops on Bahnhofstrasse:
When you arrive in town by public transport, you will most likely find yourself at Bahhofplatz. With the railroad building in your back, you are facing the first and major shopping street, Bahnhofstrasse. Uneven house numbers are to your right, the even ones to the left side of this street. Following the house numbers downwards you are heading towards Buerkliplatz and the lake, an easy walk along the shops if you are not wearing your newest shoes. After two thirds of the way (half an hour stroll, or three tram stops with any tram except No 10, which just turns there) you are at Paradeplatz and within smelling distance of Parfuemerie Osswald, the best cosmetics and perfume house in Switzerland (I dare say) and a major attraction also for weekend shoppers from across the borders. They are prepared for the right number of SAs during each hour of the day, your waiting time is minimal, but once you are being helped, they give you all the time you need (no self service, no bargains). - More on this shop later:

open: Mo-Fr: 9.00 - 18.30 Uhr; Sa: 9.00 - 16.00 Uhr

What follows below is just a list of addresses of all perfume shops on Bahnhofstrasse:
It includes major department stores like Globus, Manor and Jelmoli. Later I may add the design house boutiques of Chanel, Dior etc....Calvin Klein, which perhaps carry fragrances that are not sold in other stores (Cuir de Russie for example).



- *Yves Rocher SA, Bahnhofstrasse 100. Selling their own products. I cannot get enthused.
- *Import Parfumerien AG, Bahnhofstrasse 81, an affiliate of COOP, discounts / average stock, no scent, you wouldn't find at home, except perhaps Swiss Army which they all offer.
- **Magazine zum Globus, Schweizergasse 12, a little to your right from Bahnhofstr. 81, (Importparfuemerie)
Open: Mo-Fr: 09.00 – 20.00 Uhr; Sa: 09.00 – 17.00 Uhr, www.globus.ch
Perfumes on first floor, the usual designers representatives and a wider regular stock than some small stores have. The ladies counter has some nice niche scents and unisex is found mostly there. If you're lucky you can just reach for your Creed and spray it on...

- **Manor AG, Bahnhofstrasse 75 www.manor.ch ; thomas.bretscher@manor.ch
Similar to Globus, but smaller, on the ground floor, they leave you pretty much alone to test as you please, occasionally bargains. Summer sale starts around June 15. Not the whole export line of Lutens, but they carry Boucheron.

- **Jelmoli SA Grands Magasins, a little to your right, Seidengasse 1 (you'll see it at the intersection with Uraniastrasse (Manor) www.jelmoli.ch They don't like you to test on your own. Go on Saturdays or when they are busy, and do as you like! Otherwise similar to Globus. The designers' representatives in Dptmt. stores do not always know all their products, just the latest ones.

- *Coop City St. Annahof Zürich, Bahnhofstrasse 57 - either that one or Importparfumerie - same products, same ownership.

- *Douglas Parfumerie SA, Bahnhofstrasse 32 European chain store. A little better than Marionnaud, I think. I hardly ever go. The girls look pretty and know little, but everything in their limited offer is behind the counter, very time consuming to get sniffing at things.

- *Marionnaud Parfumeries, Bahnhofstrasse 26, am Paradeplatz, just across the street from Osswald.
Also on #35 and # 79; www.marionnaud.ch European chain store. - No comment

-**The Body Shop, Bahnhofstrasse 38 & # 93 (taken over by a giant enterprise recently, selling their own products)



Shops off Bahnhofstrasse:


In the historical part of Zurich, you may want to visit: ***

Hannes Bühler

, Designer / men's wear / EDT

'HannesB one'.

The baroque building where his shop is located is still unchanged and worth seeing.

Bühler also has a shop in the Alpine resorts Gstaad and St. Moritz. The cologne is also sold in Parfumerie
Stemmler, Storchengasse 11 (speciality - wet shaving accessories)


**
Medieval art & vie
, the book shop
of Andy Tauers friend,
Pascal Wehrle, Spiegelgasse 29 (across the river, and up the hill to the old 'village'. You need to consult your map, or ask. The shop is not easily found. Tram 3 would bring you near.
http://lemaroc.webstores.ch
All current Tauer perfumes can be tested and purchased there. Perfume shops do not carry them.

You may take a chance to visit one of the smaller boutiques mainly frequented by Zurich citizens (two are favorites of mine). I cannot possibly list them all, but there will be shopping guides in your hotel. Several fashion designers have a boutique in the center of town. Dior and Chanel, both on Bahnhofstrasse, sell their exclusive fragrances there. Whether D&G, C.Klein, Armani, and some of the others sell their colognes also, I do not know. Be warned that my comments and recommendations are based on personal preferences. My aim is to be fair to all traders.
I am devoted to fragrances mainly, their makers and traders of course have the respect they deserve.
Farfalla in Seefeldstrasse: fragrant natural oils, including rose from Anatolia and oudh from Kambodia, one of their most precious: 1ml (15 drops) at 50 CHF

If you leave Zurich by train, and have extra time, and more money to spend before you go: L'Occitane have a shop in the main hall of the Railroad Staion. Any shop there is open until 20.00h, and also on sundays.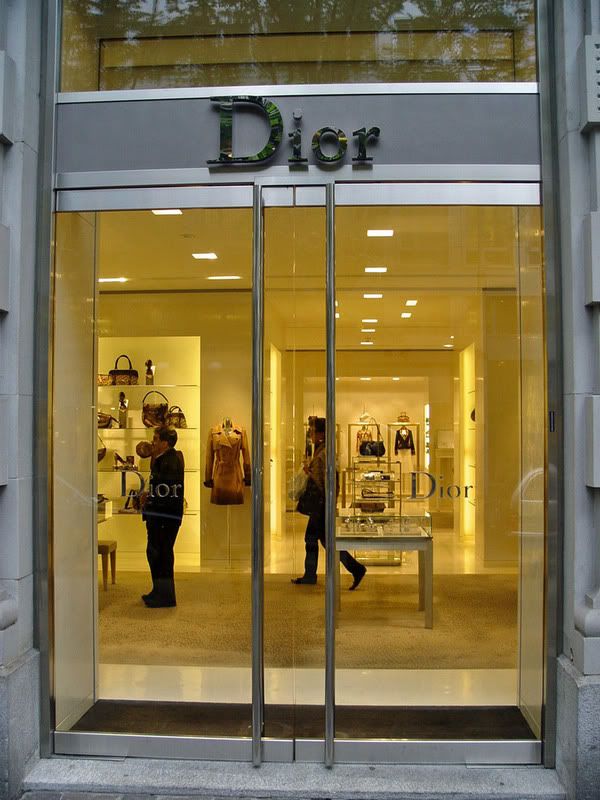 On Bahnhofstrasse, near the lake. (last update: Sep 12-07)