Fragrance: Wild Plum Blossoms
Perfumer: Creation
Every year I go out in the country to enjoy the blooming of the wild plum trees. The roads and trails are lined with thickets of snarled wild growth, providing shelter and food for animals. The fruits are too sour for people, but they grow in abundance at the end of the summer.
For a short, precious time in April, the plum blossoms open. The branches of the trees are filled with large clusters of white flowers, and when the breeze blows, their fragrance can be smelled from a distance. I am drawn all the way into their midst by the aroma.
I stood in the middle of the plum thicket, taking these photos at sunset. The bees and insects buzzed among the flowers. The air was filled with the intoxicating scent of wild plum blossoms. What did it smell like?

A fruity, honeyed aroma of exceedingly sweet green powder...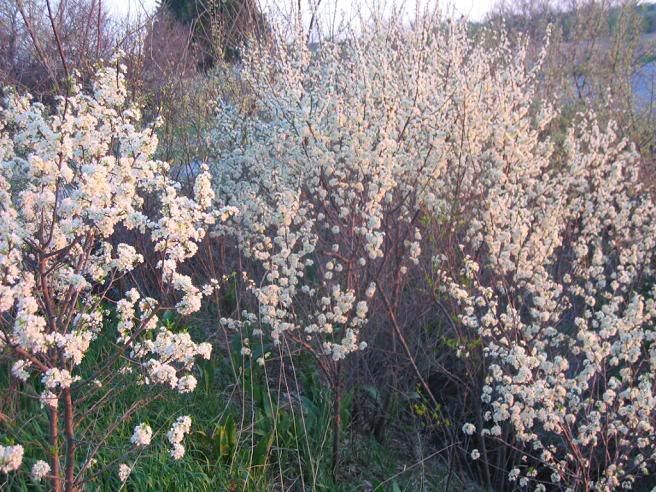 Last night, they were caught in an unexpected freeze. The temperatures dropped, and the blossoms may have been destroyed for this season. I was dismayed. The flowers had failed in their purpose to set on fruit. There will probably be few plums this summer. But then, I realized that the absence of fruit would allow the trees to use their energy for themselves. Unburdened by the needs of the plums, the trees would put their strength into their own roots, leaves, and branches, making for better, healthier trees next year.
In all things there exists some miracle.
Thank you for letting me share this fragrance miracle with you.
Thanks for your patience with my poetic moment.
It really is about fragrance, you know--the original fragrance of nature.