My husband had a storage problem for his samples and didn't want to go the route of the industrial vial tray or lipstick tube holder. He didn't have a great many but they were all over the place on his dresser.
Today it occurred to me that there is a simple solution for someone who doesn't have vast numbers of samples (you with large numbers, read on below.) Maybe someone else has already thought of this, but anyway, here goes:
Take a box of any kind that isn't too deep and is a good size to house your samples. It could be as utilitarian as Tupperware, as cheap as an old tissue box with the top cut off, or as decorative as your imagination can come up with.
Edit 9/18/10:
I have settled on using rectangular bamboo boxes sold for storage of cutlery. Cheap, a good depth, fit in drawers neatly side by side.
Fill it 3/4 full with any granulated substance that won't scratch your vials: rice, bulgur wheat, cornmeal, salt, sugar, you name it. I used cracked barley, as I happened to have a lot on hand. You could use sand, of course, but it would scratch the glass vials. Grains are not as heavy as salt or sugar and easier to vacuum up if they spill. Small inexpensive plastic beads will do very nicely also.
Now just stick the vials upright into the box. The rice (or whatever filler you used) will support the vials. No need for precision drilled holes and the beauty of this is, no matter how big or small the vial, or whether you get rid of or add samples, the filler adapts.
Those with a lot of samples could still use this idea. Get a three-drawer Sterlite plastic storage unit -- the kind whose drawers are about 3-4" deep-- and partially fill the drawers with your rice (or whatever.) Then stick the vials into it.
Ta-dah!
(***EDIT: The container doesn't even have to be a box, really. You could use any favorite container. A flower pot even, LOL. As long as you fill it to within a short distance from the top with the filler of choice.
Also, for those who may not want to read the whole thread, it has been pointed out that some fillers may attract bugs and salt and sugar can dissolve.
My best recommendation at this point is poly pellets, or polypropylene pellets
, which are the filler for beanie toys. Available in bulk on eBay and elsewhere where craft supplies are sold. Choke hazard for kids, though, so take precautions.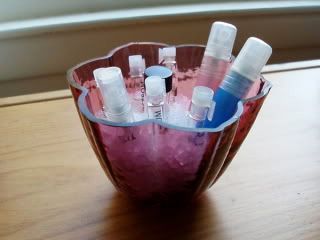 If 2,389 people have already come up with this idea, please ignore!
And if I posted this in the wrong section, someone please move the thread?