SotY #3 Yves St. Laurent Rive Gauche pour Homme
Total Wears: 409 (0.7%)
Number of weeks of at least one wear: 51
Low week: 0 wears in week 44
High week: 25 wears in week 14
Average: 7.84 wears/week
Number ones: 4
Top 10s: 29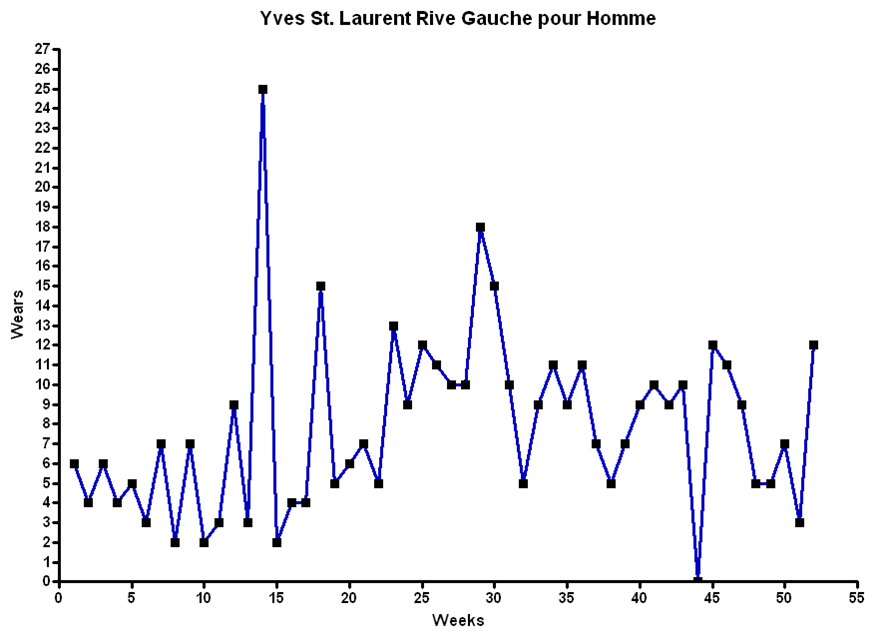 The #3 scent is Yves St. Laurent Rive Gauche pour Homme. This had one of the more interesting yearly patterns. It had the interesting pattern of 10 wears in week 43 and zero wears in week 44, the greatest drop from hero to zero of any scent. The spike in week 14 was due to wears in tribute to the death of Yves St. Laurent. That week was dominated by Yves St. Laurent scents. After the peak Rive Gauche pour Homme pretty much settled back to its levels before the spike. Rive Gauche pour Homme really soared in week 23-32 scoring double-digit weeks in all ten weeks but for one which was a nine. It had a 10.90 wears/week average over that span. Those weeks correspond to August through September, i.e the hottest months of the year. Rive Gauche pour Homme is a scent the community reaches for when the mercury soars.
Rive Gauche pour Homme is the flagship scent for Yves St. Laurent and it is the most popular scent from that House for this community. It is probably one of the more widely owned scents on Basenotes and that helps keep its wears up. It isn't widely recommended on the boards but it does seem to be widely respected and that is reflected in its position in the top 10. There were a couple of regular posters for whom Rive Gauche pour Homme was a component of their regular rotation. The only female wears it got was during the tribute week, other than that it had zero female wears.
See you tomorrow with #2.