SotY: Montale
Total Wears : 1,075 (1.9%)
Wears per week: 20.60
Wears per day: 2.9
No. of scents: 60
Top 10 Montale
1.)\tBlack Aoud 198 wears (#23 overall)
2.)\tRed Vetyver 117 wears (#64)
3.)\tBlue Amber 101 wears (#82)
4.)\tAoud Lime 51 wears (#237)
5.)\tRed Aoud 50 wears (#243)
6.)\tAttar 49 wears (#246)
7.)\tWhite Aoud 48 wears (#259)
8.)\tAoud Roses Petals 34 wears (#362)
8.)\tRoyal Aoud 34 wears (#362)
10.)\tAoud Damascus 33 wears (#378)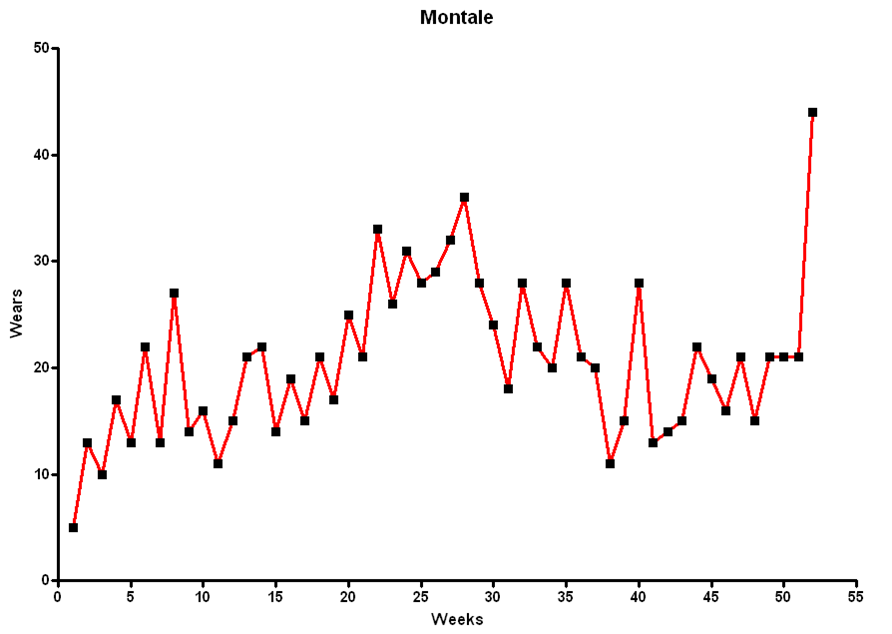 Montale is the number nine house over the last year. Montale is also a testament to what the power of advertising in this community can bring you. As you can see from the graph Montale hit a sustained peak from week 20-30. This was concurrent with an advertising banner from maisonstinky offering as many free Montale samples as you wanted for life if you bought a bottle from him. From almost the moment the ad went up and was in the community's face the wears for Montale began to climb and the numbers bear this out. The Montale average was 15.53 wears/week in weeks 1-19, during the ad campaign the average climbed to 28.45 wears/week in weeks 20-30, and then they remained up at 21.25 wears /week for the remainder of the year. These numbers were also mirrored by another much smaller House, Neil Morris, and I'll be talking about that in a few days. Bottom line is advertising to this community works.
The top three Montales are easily the three most popular Montales on the forums. Black Aoud, Red Vetyver and Blue Amber all generate significant chatter and were talked about a lot. Montale also benefits from being the gateway oud to many Basenoters. As it is usually a Montale they try first if they've come to realize the note they like in something like YSL M7 is oud. It is certainly the oud that gets recommended the most with Black Aoud being the most recommended. Aoud Damascus is the one which has the most recommendations as being the most accessible of the Montales and I was surprised to not see it higher. White Aoud was the favorite Montale of the women and had the highest percentage of female wears. Overall Montale got 23% female wears but outside of White Aoud there was no single scent the women found most interesting. Red Vetyver was one of the most successful new scents of the year finishing third in that category.
That's it for Montale.
We'll wrap up the House top 10 tomorrow with Caron.