Ok, so I'm thinking of getting a haircut, my hair is a bit too unruly when long and it's fairly thin and the longer it gets the thinner it looks.
I'm 26, and fairly introverted and shy but tend to dress kind of hippieish (lots of earth tones), and casual indie/metal/trendy.
I guess what I'm asking is if you can just look at my pics and suggest a hairstyle, perhaps posting a picture or naming a celebrity who currently has the look. It's been a LONG time since I"ve had a radically different style and I don't even know where I want to go with it. No idea is off limits except a shaved head, and that's only because my head is.. misshapen. :bounce:
One thing to keep in mind is that I have a hairline much like this soccer player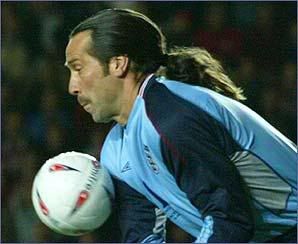 Now, it's always been that way and as far as I can tell it's not receding - or if it is it is doing so extremely slowly, but regardless, a hairline like that coupled with thin hair can lead to gaps between the hair up there that shows the flesh up there and it's just not attractive.
So, what do you think would work with that hairline and my face shape? I REALLY appreciate any and all replies.
Here are a few pics of what my hair looks like now:
this one is a bit older, and I think is actually a decent picture. Unfortunately my hair rarely behaves like that and usually looks so much worse
.
These may look okay but honestly my hair is way too bushy in the back and these are the "best of" photos I snapped of myself as those are the only ones I had saved
. The second picture gives some indication to how thin and flat my hair is (especially at this length!) and the third how bushy it gets in the back.
------------------------------
Here is a shorter length that I am considering going back to
right after a haircut
--------------------------------
I was thinking of going with something like this but worry it will make me look older as I would no longer be hiding my "receded hairline" under hair of any sort.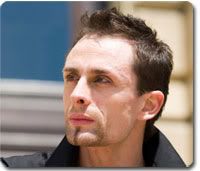 And before anyone asks, yes, I do smile, just not for pictures
So, what should I do?
edit: Sorry for posting so many pictures. I'm really not trying to be vain. I just know there are a lot of well groomed, image savvy individuals here and am looking for advice on top of what my friends have given me so far. Thanks again!