Ortigia is from Sicily.
Here's their
link
.
Their packaging is quite cool: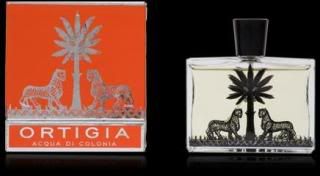 The scents:
Ambra Nera
"Spicy exotic woods, vetiver, patchouli and cedar over an amber base of labdanum, oak
musk, galbanum and resins."
Corallo
"Dry aromatic Mediterranean plants: helichrysum, cistus, wild fennel, rosemary, oregano, mint, thyme, nutmeg, pine, balsamic herbs, cypress, tree musk and estragon."
Fico d'Inda
"A cactus which grows abundantly in Sicily, Fico d'India contains healing elements in its juice."
Lime Di Sicilia
"A rich citrus mixture with a base of bitter orange, aromatic woods, vanilla and lime."
Melograno
"This exotic fruit with its dry and dusty scent was the personal symbol of Roman Maximillian I and Catherine of Aragon, both rulers of Sicily."
Sandalo
"The essential oil of this exotic tree with narcissus, cedar, teak, vetiver, rose and jasmine."
Zagara
"A highly aromatic citrus scent with a neroli, petitgrain and woody base."
EDIT: Doh! I forgot to search first! But this is way more info than before - hope this helps...