This installment showcases 95 bottles in various shades & accents of white. Some clear bottles have been included to fill it out.
Challenge:
For the image below, each contestant is challenged to name
a minimum of one fragrance and a maximum of five fragrances
, by responding to this thread. The more bottles you name, the more "tickets" you'll have in the prize lottery. Thanks to Grant and other generous Basenoters, we have several prizes again for this contest.
Click on the image below to view it full-size (1280x960):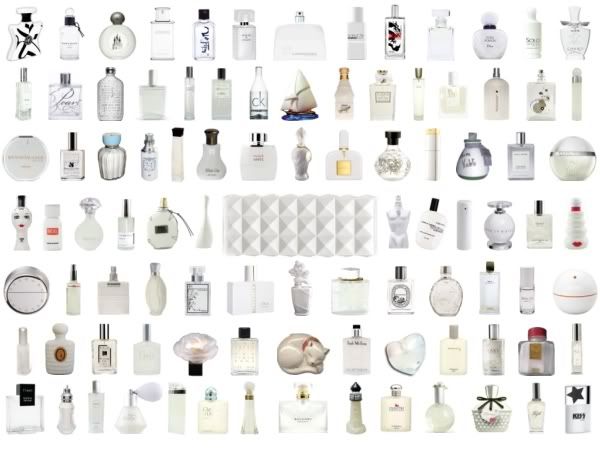 If your browser resizes the picture to fit your window, the bottles will not be as easy to see.
Give as much detail as you can (gender, special editions, etc.).
Process:
Submit your answers by posting to this thread. Indicate the Row # and bottle position. You may post multiple responses to this thread until you have named 5 bottles. (Do not send answers via PM.)
You must name the house and the fragrance for your answer to count. Details that distinguish one bottle from others in the same line should be included. (Example: CK One Summer 2005 is a different bottle than CK One Summer 2007. "CK One Summer" would be an incomplete answer.) If you don't see your answer on the master list, I'm looking for more detail.
If some bottles remain unnamed toward the end, I'll open up the contest to allow more guesses per person.
I will keep updating the master list as time allows, to reflect the bottles that have been named, but a review of the previous posts may help before you submit your answers.
PLEASE post additional new answers in a new reply. If you only edit your first post, I may not catch the update.
Have fun!
Deadline:
6:01p.m. (CDT - US), Saturday, July 18, 2009 => 12:01a.m. GMT, July 19.
Who Can Play:

Anyone
who became a Basenotes member prior to July 12, 2009. Previous winners are also invited to participate.
Judging:
The only criterion is that your answers be
complete
-- list both the house & fragrance for each bottle you name, and includes any special edition details. All prize winners will be chosen at random. The more bottles you name, the more "tickets" you'll have in the prize lottery. (Maximum: 5)
Prizes!
1st drawing: a $50 (USD) gift certificate to one of the following
BeautyHabit.com (gift certificate via email)
ThePerfumedCourt.com (gift certificate via email)
Sephora.com (gift certificate via email)
ThePerfumeShoppe.com (physical gift card mailed within Canada?)
Another e-tailer of your choice that offers gift certificates via email
I'm open to other options for Basenoters outside the U.S. (e.g., Aus Liebe zum Duft)
Other winners will receive one of the following
white gifts
(all generously provided by
Asha
,
Lizzie_j
,
RHM
,
Grant
, & Anonymous!
)
From Grant! A year's supporting membership to Basenotes, with the

green

supporter banner
(if this winner is already a supporter, he/she could get a subscription refund)
Molinard Les Senteurs Vanille edt, 100ml, new in box
Estée Lauder Pure White Linen edp spray, 30ml (no box)
Estée Lauder White Linen parfum spray, 5.3ml (no box) + Crabtree & Evelyn Nantucket Briar scented bath soap, 100g
Claus Porto candle in Lysia (mimosa) - 10.5oz soy blend candle in etched glass, new in box
Viktor & Rolf Antidote After Shave Balm, 100ml, new in box
Viktor & Rolf Antidote After Shave Balm, 100ml, new in box
Korres Basil Lemon ShowerGel, 250ml, new
Perlier White Almond Rich Moisturizing Body Cream, 200ml, new in box
Avon Rare Pearls edp, 50ml, new in box
Yankee Candle Tea Lights, set of 12 in White Lilac (purple color)
DVD - Sex & the City: The Movie
S.T. Dupont Orazuli edp, 100ml (95% remaining) - "white florals"
Many, many thanks to the white prize providers and everyone else who has helped! (Still holding on to other donated prizes for future contests!)
_________________________________________
Related Links:
_________________________________________
Wallpaper images: