(Yes, I also posted this in the sample of the day thread but I felt that this observation was long enough and detailed enough to warrant its own thread. I'm also posting it as a separate thread to get more feedback on the scent.
)
Today I sampled Les Nez's
Let Me Play the Lion
.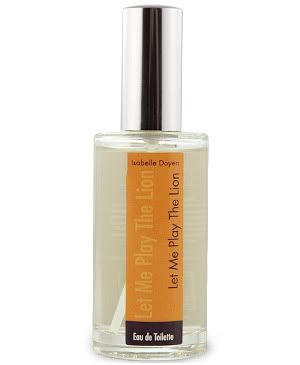 This is a really interesting scent that I think has been written off far too quickly by many. With only the occasional cursory sniff over a single wearing one would be left thinking this is a quite linear and short lived scent. These observations prove to be both true and untrue.
LMPTL goes on with a blast of anise and a coniferous accord which features a black spruce note rather prominently, accompanied by black pepper. The anise moves to the forefront for a short while before receding to reveal a beautiful and novel accord that remains dominant from its arrival until the late drydown: cedar and carnation. I have a feeling a variety of cedar notes are used as its soft and warm and round aspects are present as well as its sharper, turpine qualities. The accord is further warmed and deepened by the carnation note which is simultaneously smooth and buttery and slightly clovey.
The clove note disappears in time and is replaced by a soft sandalwood note and a faint note of incense. A warm and yet sufficiently bitter honey/beeswax like note also becomes noticeable in the heart. I wonder if this is an illusion created by some combination of the carnation and anise, if a honey or beeswax note is actually present, or if this is the early phase of the dryout of the *real* ambergris that Let Me Play the Lion features. Yes, LMPTL features real ambergris, according to Les Nez owner Rene Shifferle.
Despite the honey-like notes and the smooth carnation, the scent never feels creamy. It feels warm and dry and yet soft. I must say that the magnificent creature in the title of the scent was well chosen - the scent is evocative not only of the color of a lion's fur but also of the softness of its mane. And yet the scent never lets your forget that there is a dangerous animal beneath all of that soft fur. This is portrayed olfactorily by the ambergris note which is slightly animalic, dirty and funky. Combined with the beeswax and carnation it sometimes comes across as though this lion had to urinate. I only pick up the urinous quality periodically, and even when I do it is not so strong as to be off-putting or make me self-conscious of my scent.
The reason I said that it was both true and untrue that the scent was linear and short-lived is that the scent is linear in that there are no significant changes from one scent category to another. No citrus->floral->woods or spice->floral->amber or anything like that. Yet, there are notes weaving in and out of its central dry/smooth/woody theme to keep it interesting. Also, it seems short lived. It seems to fade quickly on skin, and yet you will catch the occasional whiff of this golden woody aura surrounding you hours after you thought the scent disappeared. When I sniff within my shirt or the spot on my forearm where I applied I can barely smell a thing (at about 10 hours into the scent) and haven't been able to for a good 5 hours, and yet I'll still be greeted by whiffs the cedar/sandalwood/ambergris drydown when I least expect it. Let Me Play the Lion really does let you play the lion - and be surrounded in its subtle, gentle, warm and animalic aura.
An excellent scent. Great for winter but due to its lightweight treatment of heavy notes I think it'll make for a great and different summer scent, as well. While some have complained that it is lighter than the vaguely similar Gucci Pour Homme, in this case I think that is more boon than bane. It makes it versatile and also prevents it from becoming suffocating or overstaying its welcome as strong, straight-up woody scents are wont to do.