Woo Hoo! I'm not alone! I sprayed on some 68 before bed last night and I just like it so much better. Maybe it's the addition of flowers and the insistent Geurlain vanilla that's in there filling in the gaps from the topnotes down, but I just think it's a 5-star all the way.
Today, on the advice of MTGPROX, I'm testing a
Dior
Homme flanker,
Dior Homme Sport
.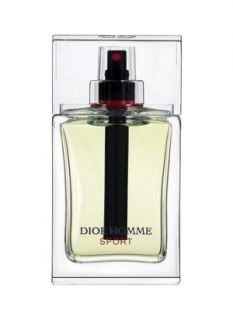 Oh, now I see why this
isn't
one of the ones MTG recommended...
To get it out of the way,
Dior Homme Sport
has absolutely nothing at all to do with
Dior Homme
except the bottle and the name. So I'll judge it on its own merits.
It kicked off with a bright mix of lemon and calone (which is immediately familiar because that's the basic recipe for the topnotes of
Eternity for Men
). The lemon was quickly joined by orange, and then neroli. This stage was actually quite nice - refreshing, not stupidly sweet, and perfect for hot weather.
The heart was that salty herb mix made famous by
Acqua di Gio
, which I actually kind of like. The problem was the transition. The mix of the sweet citrus and the salty herbs felt kind of fusty and gross. That being said, I think many aquatics smell fusty and gross - if you're a fan of the genre, don't let me put you off. The weird combination actually reminded me remotely of
Cool Water
(which I hate, but many love).
The base is that metallic "woody amber" note, which I pretty much hate, but that everyone who wears current designer masculine scents seems to love.
So there you have it.
Dior Homme
Sport
's influences are painfully transparent and obvious, but they actually kind of pulled it off. Sure, it's scraping the bottom of the lowest common denominator, but it's actually pretty well put together. If you're a fan of
ADG
,
Cool Water
, and
Eternity
, you should probably do yourself a favor and check out
Dior Homme Sport
. But if you're looking for a lighter take on the original
Dior
Homme
's vanilla iris, you're not going to find that here...