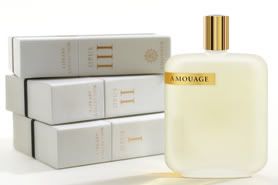 Amouage Opus II:
Perfumer:
Michele Saramito of Robertet
Notes:
Lavender, Absinthe, pepper, pink bay, Jasmine, rose, cinnamon, cardamom, Cedarwood, patchouli, amber, musk, incense
I must say that I am overwhelmed after having tested Opus II. It is a magnificent, beautiful fougere. In short, it smells something like a cross between Rive Gauche PH and Fou d'Absinthe, the two not blended together but instead a new formula inspired by the two, created with an unlimited budget and blended by God himself.
The notes of Opus II may
sound
generic but are woven together with such careful precision and subtlety that they literally dance on the skin in an olfactory equivalent of the glimmering iridescent display of light dancing across a most exquisite piece of abalone. This is a fragrance that is definitely greater than the sum of its parts.
You know that feeling of magic that sometimes washes over you during the winter season? There is an utter, almost eerie, stillness in the air, and all the earth is asleep, and the quiet and solitude do not leave you feeling alone so much as they magnify your own sense of self, your own awareness of life and existence? The way we rush from the car into the houses of friends and families to escape the bitter cold, and are met with the wonderful scent of chai tea, cinnamon sticks and apple cider, christmas trees, bay leaves and mistletoe. The warmth of friendship. All of that; all of the wonderful and beautiful elements of winter have seemingly been distilled. That is Opus II.
Yes, truly a wonderful fougere that shimmers and floats above the skin, and will remind you, if you are so inclined to listen, that magic really does still exist.
The hues and tones of the scent remind me of the colors (and to an extent, the mood and atmosphere) present in these two pictures: