Hi all,
So, I just got home from another fantastic Basenotes Meet-Up around the wonderful stores of San Francisco. We're all over-sniffed, with tired feet and aching noses, but with new treasures to show for it!
We met at the Diptyque boutique, where we all got to know each other over over sniffs of their best loved favorites. In addition to the expected BNers, we were also joined by sans_serif_sf, who's a lurker here but quite the collector, and his cute little dog Gizmo. Diptyque put out samples of the ingredients they use in some of their scents, so we had fun sniffing some rather unusual essences in addition to the ever-popular Tam Dao et al. In Diptyque news, they've just released extrait versions of Philosykos and L'Ombre dans L'Eau in a striking crystal art bottle.
Here's BayKAT and 959Lover sniffing at the perfume table: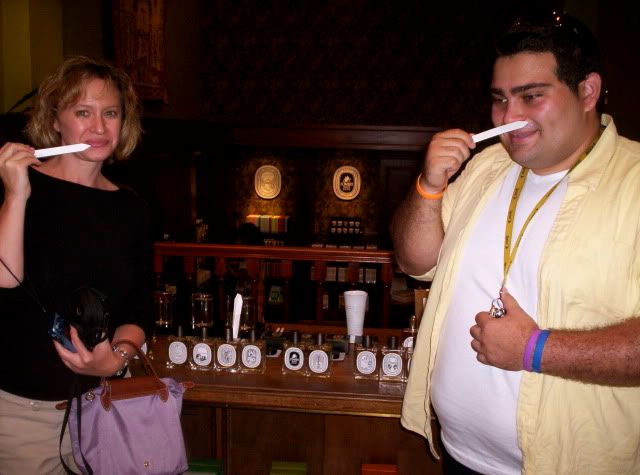 And most of the crew outside:
Not a great picture, but that's C Rose's back blocking new BNer Opiate, then NYCBoy and BayKAT on the left. The group on the right is PaulSC, BN newbie Kalynne, 959lover's back, JaimeB (blocked by 959's hand), and knit_at_night behind ROtto.
They gave us some nice gift bags with full size soaps and solid perfumes - Thanks!
Then, we were off to Hermès, where we sniffed the exclusives and the new Eau Claire des Merveilles. Then, they opened up the hidden cabinets with all their hard-to-find classics and everyone went a bit nuts. Knit_at_night enjoyed the original Eau d'Hermès, which personally reminded me of VC&A First, while JaimeB was intrigued by Amazone, at least on paper.
Harputs was a bit of a bust, as they were already busy and the manager wasn't able to help us, so we took advantage of the opportunity to make a quick exit to Jacqueline Perfumerie.
C Rose, knit_at_night, NYCBoy, JaimeB, PaulSC, ROtto, sans_serif_sf with Gizmo, and Opiate, while others were still inside making purchases.
In terms of purchases, this was probably the most popular stop on the trip. BayKAT unearthed a discontinued vintage Caron extrait, while new BNer Opiate picked up some old-formulation M7 and a bottle of Kolnisch Junchten. Oh yeah - it was THE LAST bottle of Kolnisch Junchten. It's quite possible that I mean that literally...
More items were purchased (sorry - I lost track), and we headed for Neiman Marcus. We sniffed the Jo Malones and then headed to the Guerlains. They had hidden testers of the new Arsène Lupin duo. Voyou was kind of sharp and had that "woody amber" note I don't like, which gave it a bit of a designer feel, but Dandy was a very traditional Guerlainade oriental which I'm sure will garner some buzz as samples become available.
The ladies kept sniffing the Guerlains while the men headed for the men's department. Fougere Royale wasn't in yet, but we had fun sniffing everything from the new Van Cleef & Arpels Midnight In Paris to the new Halston Man Amber, which had an intriguing amber/oud character.
After a quick snack, we ventured off to Saks Fifth Avenue. We all split up, some of us checking out the Cartier Les Heures de Parfum, while others sniffed their way through the Kilians and the Bond No 9's. Upon learning that knit_at_night enjoyed luxurious classics, I forced her to try Clive Christian No. 1 for Women, which, much to her chagrin, she loved.
The, it was off to Barneys, where everyone seemed to have a planned purchase. NYCBoy wanted to smell the Delraes, while ROtto and Kalynne purchased some Lutens and a Heeley. NYCBoy ended up trying on Malle's Le Parfum De Therese while Opiate made his way through the L'Artisans.
Perfumer Yosh Han was doing an in-store event, and she met with us to go through her new EDPs. I personally really liked White Flowers 1.41, a big floral bouquet played against a green, woody background. When we told her we were a big group from Basenotes, she said to say hi to Grant! It's a small world...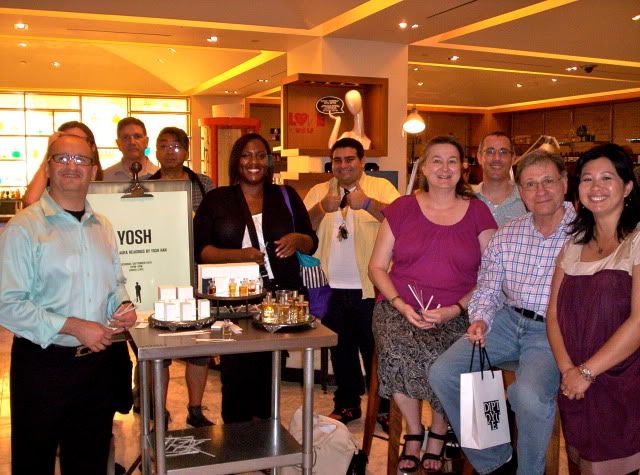 Yosh's assistant blocking C Rose, ROtto, sans_serif_sf, Kalynne, 959lover, knit_at_night, PaulSC, NYCBoy, and Yosh Han.
We lost a few people due to prior engagements or sheer exhaustion, but a few of us made it out for dinner and drinks, where we compared purahces and traded samples of our newly-purchased bottles. A few of us had brought samples to give out, too. This also gave us a chance to simply get to know each other better. As a side note, knit_at_night brought some knitting to do!
And that's our story. We all managed to put together a pretty epic treasure trove of samples, and I certainly hope everyone enjoyed themselves. It was a nice mix of new faces and old friends, and, as usual, we all forgot to take pictures... Anyway, here's to many more meet-ups!