As I have passed my 50th birthday I have seen many changes. Music has gone from vinyl to digital. Phones have gone from rotary dials to touchscreens. As David Bowie says Ch-ch-ch-changes. One of the most important changes has been the affordability of air travel. When I was a young child in the 60s I traveled vicariously courtesy of the Travel Section of the Sunday newspaper, National Geographic TV specials, and movies about the comedy of travel like If Its Tuesday, This Must Be Belgium. Now the world is available to many more people and you dont have to resort to a whirlwind tour of 10 cities in 10 days.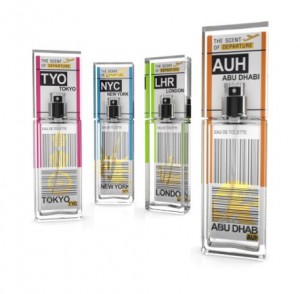 One of the joys of traveling is that so many places seem to have a unique fragrance which makes them identifiable. It seems Gérald Ghislain, the creative artist behind Histoires de Parfums also seems to be able to couple a scent to a destination. He has created a new 20 fragrance collection called The Scent of Departure. Each entry has the three letter abbreviation of the city it is describing. The other special thing about this collection is that all of the fragrances are $45 for 50mL acrylic encased bottles. This makes for affordable fragrant travel courtesy of our intrepid fragrant tour guide M. Ghislain.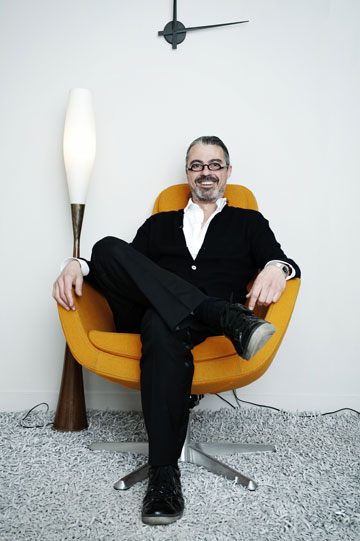 I am extremely happy to be one of the first to have the opportunity to try all 20 of The Scent of Departure fragrances and it is a bit like those whirlwind tours described in If Its Tuesday, This Must Be Belgium. I am going to attempt to travel to 20 fragrant destinations over the next five days, four at a time. For those of you who are Histoires de Parfums lovers I can tell you M. Ghislain has pulled off a virtuoso display of perfumery. There are definitely cities I like better than others but this is an amazingly consistent and cohesive collection for the breadth that is present here. All of the fragrances are simple constructions of four to five notes. So come along with me as I whisk my way around the world one fragrance at a time for the next five days.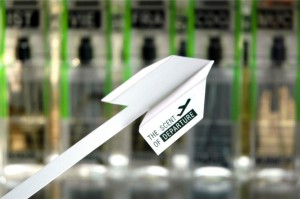 The start of my trip begins in the city I consider the American Capitol of Perfume, New York. NYC is colloquially called The Big Apple and that is what NYC begins with, a crisp sour apple note. The sour aspects are softened by a floral duo of lilac and rose. This is all placed over a slightly aquatic base.
As I catch my overnight flight at JFK I wake up the next morning in Vienna. VIE takes you to one of the gardens in the city where the smell of grass, mint, and water lilies re-create a morning stroll through the floral beauty. VIE then pivots from a floral to a gourmand as you find yourself with the smell of vanilla and coffee. At first a fresh pastry and dark blend, it turns almost yeasty and bready before the end.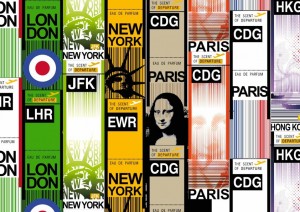 Next we land in Abu Dhabi; Middle Eastern hub of spectacular skyscrapers over ancient history. The brilliant sun is evoked by an equally bright bergamot, at the top of AUH, which is followed by a selection of lightly ozonic notes that feel like sitting on a beach. Jasmine inserts its floral quality in an ethereal way. This is jasmine at its most unobtrusive. Which leaves space for the smell of the market as a deep spicy amber is where AUH comes to rest.
No rest for me as I am off to Singapore. SIN opens with a touch of tart lime and then the slightly watery note of orchids and grass mingle with the tart lime. A light gaiac wood closes out SIN and it floats on the cloud created by the orchids in a way that makes them seem like natural partners.
Its time for a rest for me but Ill be back on Monday to continue my journey with another four cities.
http://www.cafleurebon.com/new-fragrance-review-the-scent-of-departure-collection-around-the-world-in-20-fragrances-part-1-readers-choice-draw/