Andy Tauer has launched
Lys de Desert
an exclusive to Luckyscent to be sold under the brand name
Decennial
.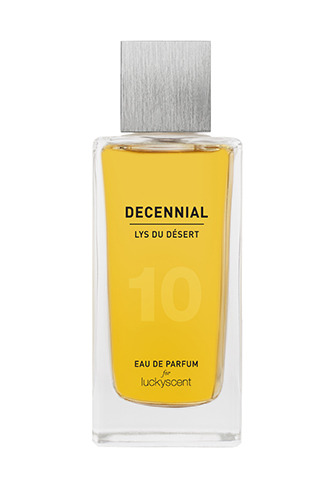 From the description:
The perfume idea for Lys du Desert, created exclusively for Luckyscent, came to Andy when he first visited Joshua Tree and the Desert Lily was in full bloom in the Pinto Basin. Its white lily scent was intoxicating, with hints of green freshness that reminded him of the oasis at Cottonwood Springs, a site with lush green vegetation at the north entryway to Joshua Tree.
In its opening, a hot desert wind sweeps through Lys du Desert, carrying with it an oasis of green freshness. But freshness is only hinted at. Bone-dry ambery woods, reinforced by powdery iris root, envelop these notes, suggesting the magical combination of flowers and desert. The dry woody amber that leads the fragrance reminds you where the desert lily blooms: In the desert, with Creosote bushes and isolated pines in the wonderland of rocks further up the hills. As it dries down, Lys du Desert becomes an interplay between sweet florals, warm amber, and dry woods. Remarkable and stunning.
Lys de Desert notes
Bergamot, rose, green lily, dry cistrose, iris root, ambergris, dry cedar