The perfumer, Jean Claude Ellena said in a press release:
Quote:
...
I wanted to offer armfuls of flowers to smell, people could put in their own choice of flowers, smell what they wanted to smell. So: let it be a thousand flowers! Armfuls, bouquets, sprays, garden flowers, cut flowers, morning flowers, evening flowers, mischievous fragrances, bewitching smells, a whole profusion!

The blogger Bois de Jasmin reviews it here:
http://boisdejasmin.com/2012/12/herm...tml#more-13588
Quote:
...My first impression was of crunchy, springlike sweetness reminiscent of hyacinth and lily of the valley. The fragrance grows warmer and richer when the summer blossomsjasmine, tuberose, ylang-ylang, become more pronounced. The orange blossom is a delicate leitmotif that sparkles in the top notes and then turns sultry in the drydown. You notice a swirl of violet, a hint of rose, and a squeeze of lemon juice, but overall, Jour dHermès is more than the sum of its parts. Green florals are a dime a dozen at the perfume counter, but this take is more refined and complex than most...
Octavian from 1000 Fragrances gave it a big thumbs up:
http://1000fragrances.blogspot.com/2...w-perfume.html
Quote:
...The new dawn of a new style. The origins of the style are known - what Calice Becker did many years ago, today with other flowers, other molecules and very pure like a basket with one thousand different flowers blooming in the first hours of a day. Open the basket with the lost flowers from Guerlain (before the amber) and you have a new sublime naturalness - un parfum de sève au coeur des calices, a name like the old bottle. The new abstraction of JOUR is very beaux. What is left on the skin is a "new" musk vision because, when the musks are well chosen, they become "invisible", they act as if they were not there, on your skin. What you perceive is the effect of the perfume, not the odor, ...
Blogger Grain de Musc (who posted the above quote from JC Ellena) had this to say here:
http://graindemusc.blogspot.com/2012...de-ellena.html
Quote:
...A sour splash of lemon on heady floral flesh: magnolia? Round green juiciness, like apple yet not apple tip of the tongue pear, the olfactory cousin of rose, offered up to our gnosis? (Gnōthi seautón, know thyself, read the inscription on Apollos temple in Delphi but its so hard to know what our nose knows). And so it goes: sweet pea, which is all at once orange blossom, rose and carnation? The delicate fruity greenness of gardenia, without the mushroomy rot. Something salty, definitely (ylang, lily, carnation?). A green, snapped-stem moistness that seems to be trending at the moment (its been obsessing me for months and Ive smelled it in two other future launches). A tinge of orange-blossom soapiness. And then an underlying, sexy-skin softness balsams, musk: Ellena can do sensuous in fact, I suspect his famously concise style is his way of harnessing a tremendous appetite and curiosity...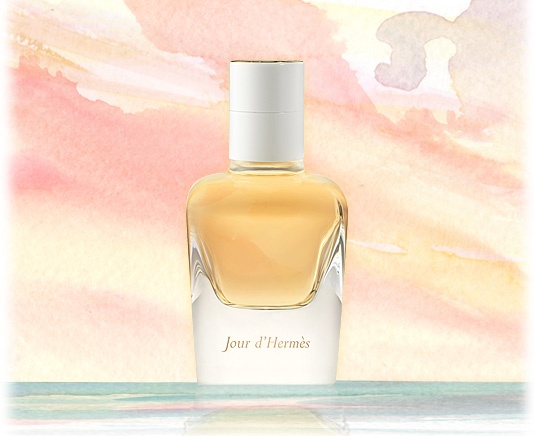 Available in 50 ml ($108), 85 ml ($149), and 125 ml refill ($130) at Hermès boutiques, at other retailers with Hermès counters & via Hermès website starting January 2013.
As far as I know the official notes have not been released. I am looking forward to smelling it myself.